the naked would love to give his opinions and anticipations about this ELP season...
Question
:
Who is the favorite for this year's EPL crown - Chelsea, Manchester United or other names?
the naked: At first sight, ELP season this year seems to be highly competitive with careful preparations of Tottenham, Everton and especially Man City with a lot of big deals. There are, of course, the likes of Arsenal or Liverpool. Having said that, I believe this year's race would be between only Chelsea and United. But then it is tough to point out the one to be the winner, actually.
Question:
Can you give deeper analyses?
the naked: Man City would be one of the title's favorites in 2 or 3 years' time. They need time in addition to money to succeed. I think they would struggle for a position in top 4 this season. And they will get it, I believe. In contrast, I would not surprise if Liverpool and Arsenal couldn't even get the last place in top 4, though it seems unlikely. Both of them look very vulnerable now. Coming back the title, it is intriguing yet hard to say about Chelsea and United. However, I think this may be the last
(after 5 continual years in )
title competition of Chelsea in respect to their players - savvy but "nearly washed up" veterans without qualified lads inheriting. United, on the other hand, with depth of their current team, I believe, are able to compete for the title in the next 5 years.
Yah, but as I said, we can ,yet again, see an overwhelming Chelsea this season.
Question:
Who would be the superstars of the season?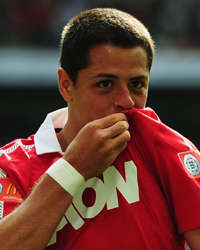 "Chicharito" Hernandez - a big prospect
the naked: Well, without doubt, there must be Drogba, Lampark - who never shine in national team, there. However, I suspect about Rooney's and Gerrard's form, though it is always nice to see them shining. Then I expect more from Berbatov this season - It is the time for him as I can't see any better chance coming. Contrary to the fans' expectations, I will not be disappointed with neither Balloteli nor Hernandez in any aspects in case they fail to prove themselves this season. These guys are very talented and in prospect of success. In addition to these stars, Torres, Tevez and Defoe would be the nominees for the top scorer...
Thank you for your time! We wish you luck in your studying...